"Als het werk gedaan is, dan is het tijd voor bier!", aldus werkend Nederland. Hoewel ik zelf geen bier drink ben ik enorm fan van werk doen, zonder te werken. Snap je het nog?
1 druk op de knop
In deze blog ga ik tot het uiterste om mijn hele bedrijf iedere dag met 1 druk op de knop te runnen.
En omdat dit nog niet lastig genoeg was, zit er nog een voorwaarde aan.
De voorwaarde: Het moet extra gemak voor klanten opleveren en nieuwe klanten binnen halen.
Gaat dit mij lukken in 12 maanden?
Je krijgt om de dag een update via deze blog.
Wish me luck!
7 november 19 – Start
Ik heb natuurlijk als co-founder van Jeasy en ervaringsdeskundige van de 2-urige werkweek een voorsprong.
Alleen het enige wat ik vandaag geautomatiseerd heb, is:
Het maken van een design op Snappa.
Kortom: er is nog een hoop werk aan de winkel.
En dan bedoel ik: EEN HOOP WERK
Ik zal eerlijk zijn: Jeasy heeft allereerst meer omzet nodig als startend bedrijf.
De eerste automatisering en slimme tools gaan hierover, want ik heb nu eenmaal eerst klanten nodig.
Heb jij nog tips voor slimme tools. Laat het weten in de comments!
Stap 1: Van dienst naar SaaS
Een dienst op basis van uren KUN je automatiseren.
De naam: Software as a Service, SaaS.
De dienst die Jeasy op dit moment aanbiedt is een automatiseringsdienst om meer klanten te krijgen, meer informatie vind je op de homepage.
Maar hoe doe je dat, wanneer je geen developer bent? (Net zoals ik.)
Kun je automatiseringsdienst op zichzelf automatiseren?
Het antwoordt is: JA.
Mensen willen geen hengel als ze honger hebben. Ook geen persoonlijke hengel voor een lagere prijs. Ze willen VIS!
Wat verwacht je van een automatiseringsdienst?
Dat je op een knop klikt en dat dan alles op magische wijze naar de klant gaat, terwijl jij een pizza eet en het middaguur journaal kijkt.
Ooh en je wil meer klanten!
Alleen mag dat niks kostten en wil je er zelf geen moeite voor doen.
En terecht!
Als het kan, waarom zou je dan geen geldboom in de tuin zetten?
Kunnen is iets anders dan willen.
"Je kunt niet alles krijgen, wat jij wil", is een vaak voorkomende zin uit de mond van jonge ouders.
Maar is dat zo?
Elon Musk wil een raket naar de maan en zijn moeder zegt ook niet: "Elon, je kunt niet alles krijgen, wat jij wil."
In mijn opinie zit de crux hem in de MANIER WAAROP.
Naar de maan teleporten is op dit moment nog niet mogelijk, met de huidige technologie.
Een raket bouwen kan, hem laten terugkomen is (nog niet) mogelijk.
Mijn punt: Een wil houd je niet tegen. Het zijn de middelen die voor handen zijn.
De middelen van nu
De middelen van nu zijn niet de middelen van 10 jaar geleden.
In principe kan iedereen een app of softwareprogramma maken, zonder programmeerkennis.
Is het dan ondenkbaar dat je een dienst automatiseert?
Nee, zeker niet.
Wat is nu in de huidige tijd een probleem?
Slimme tools kunnen vaak maar 1 ding heel goed en kunnen slecht omgaan met variatie.
Stap 1: Standaardisatie.
We gaan onze dienst uitwerken tot een reeks stappen, die we bij elke klant herhalen.
Maar doe je dit al?
Ssst: Stiekem gezegd is een bedrijf al vaak gebouwd op een aantal diensten, die ze leveren en niet oneindig veel.
Daarom test ik nu met een advertentie de ondersteuningsbot.
De Ondersteuningsbot – voor €35 p.m. niks meer aan administratie, afspraken planning en agenda's
Geen idee of dit werkt. Het wordt getest door Facebook.
Werken aan de juiste dingen
"Werk je wel aan de juiste dingen?", is verkozen tot cliché-zin van het jaar onder bedrijfscoaches.
Toch is het voor automatisering belangrijk om te weten of je dit inderdaad doet.
Dan kunnen we de rest namelijk op de automatische piloot zetten.
Taken bijhouden
Ik heb zojuist geanalyseerd dat ik maarliefst; 30% van mijn dag verspil aan onderhoudszaken.
Onderhoudszaken zijn zaken, zoals emails beantwoorden, die op zich niets opleveren en wel gedaan moeten worden, anders kostten ze nog meer tijd en geld.
Ik besteedt dus 30% van mijn dag aan onderhoudszaken en 1 grote tijdvreter zijn de dagelijkse/wekelijkse mailingen lezen.
Mijn plan om de tijdsbesteding aan nieuwsbrieven te minderen:
Stap 1: welke mails wil ik graag lezen en waar leer ik iets van? (als ik nu hardop nadenk)
Seth Godin (Marketing)
Sumo (Online Marketing)
Appsumo (Tools)
Statista (Facts & Cijfers)
Indie Hackers (Start-up community)
Stap 2: Deze mails scheiden van de rest door een filter op Google of naar een Database te verhuizen met Zapier.
Stap 3: Alleen deze mails blijven over en de rest van de inbox ziet er leeg uit. 😉
OF
Klik bij Gmail "Inbox configuratie" aan en klik op de bladen "reclame","updates" en "Sociaal."
Calendly voor afspraken
Vandaag had ik 2 videocalls en die kostte mij 1 mailtje per persoon.
Je leest het goed, geen heen en weer gemail.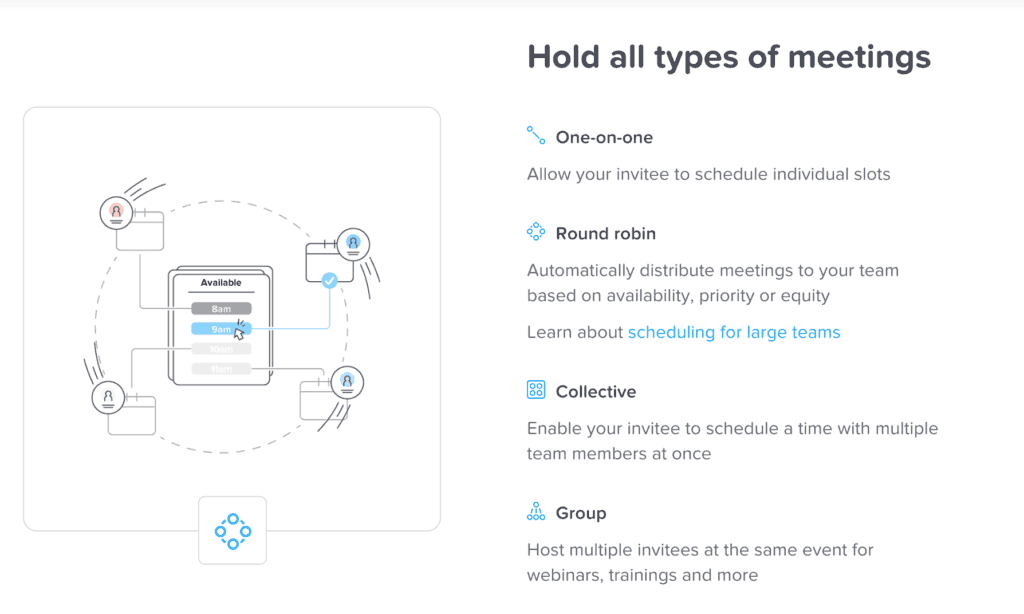 Afspraken gesynchroniseerd met je agenda
Pro-tip: maak van al je agenda's 1 agenda en sync deze met Calendly.
In Google Calendar doe je dit super makkelijk door een email toe te voegen aan een agenda.
Social Media op Auto-pilot
Voor de social media gebruik ik twee programma's:
Social Bee
Missing Lettr
Social Bee
Social Bee is een traditionele scheduling tool.
Deze tool kun je linken met RSS Feeds en zo plant het automatisch berichten, vanuit je blog in op je social kanalen.
1 keer typen en maanden plezier van dus.
Op het onderstaande plaatje zie je berichten van sites die wij interessant vinden.
Ook deze kunnen we gemakkelijk plaatsen met een druk op de knop.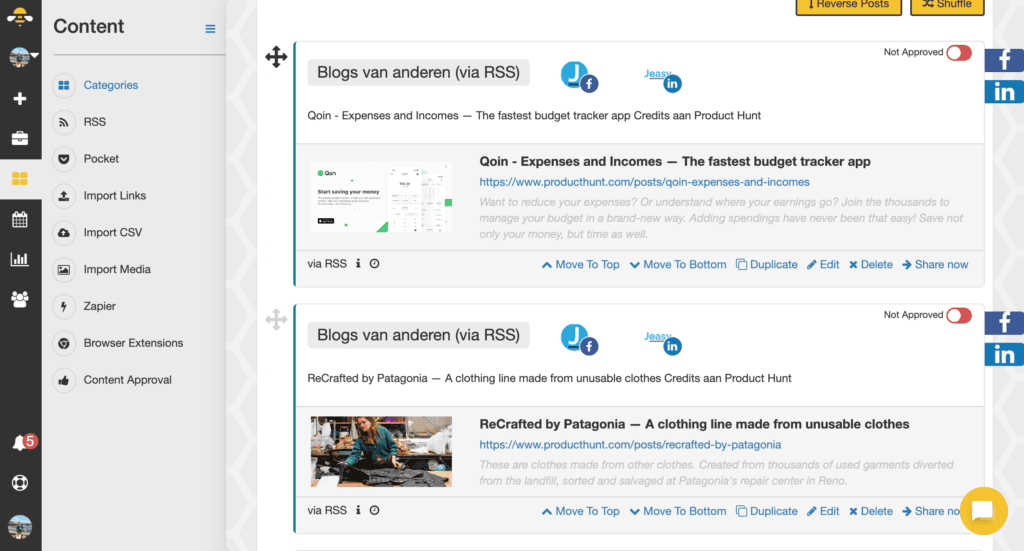 Missing Lettr
Missing Lettr is een iets geavanceerdere tool.
Het maakt meer een campagne van 1 blogpost.
Ook maakt het variaties en deelt het je post in voor het komende jaar!
Zoals je hieronder kunt zien, verandert het plaatje mee met de tekst!
Je kunt dus het plaatje en de tekst veranderen en toch 10x delen met 1 klik!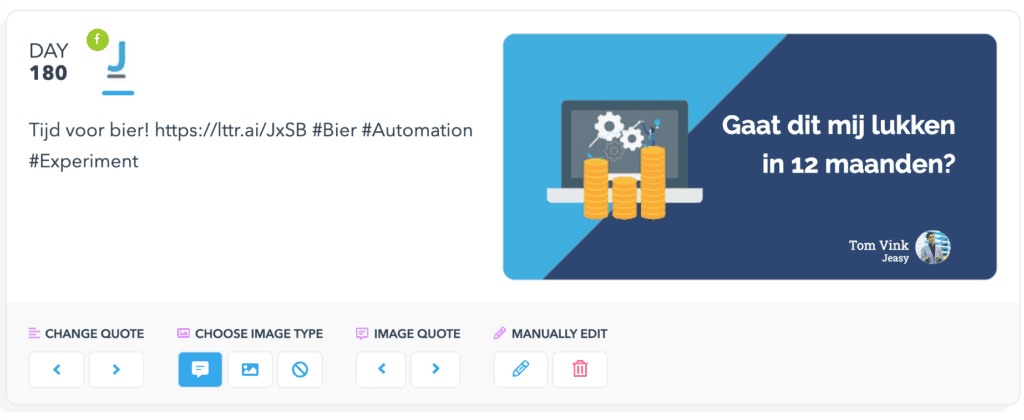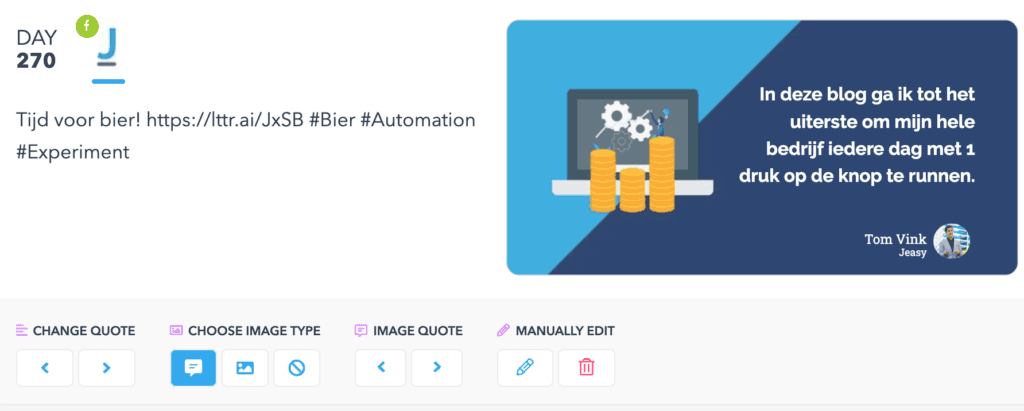 Persoonlijk vind ik de combinatie erg fijn.
Posts van partners wil je niet na een jaar nog een keer publiceren.
Je eigen belangrijker posts daar wil je meer aandacht aan geven!
Met deze 2 tools heb je optimale balans en een beetje spam. Perfect dus!
Mail Handtekeningen
"Email signatures" oftewel mail handtekeningen, zien er altijd fraai uit onder aan een pagina en zorgen voor meer klanten.
Natuurlijk kun je een handtekening laten maken door een designer.
Je kunt er ook zelf een in mekaar zetten.
In beide gevallen kun je alleen niet snel wisselen of het ziet er niet professioneel uit.
Hiervoor is een oplossing!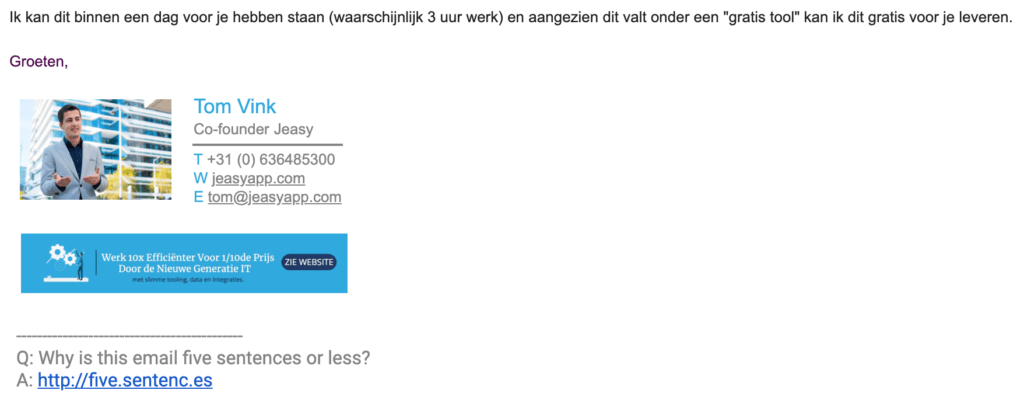 Ik heb dit programma in combinatie met 2-uur tool Snappa enorm vaak gebruikt de afgelopen tijd.
Elke mail die ik stuur moet een stukje Jeasy in zich hebben.
Vandaar een slimme tool met een stukje uitleg over Jeasy.
Dit stukje uitleg maak je super snel met Newoldstamp, vervolgens maak je een kleine banner met Snappa en je banner staat met een simpele "copy & paste" in Gmail.
Scheelt een hoop tijd en is een unieke marketingmethode. 😉
Het gaat nogal traag
Dat is op dit moment, 21-11-2019, mijn gevoel.
Op de automatische piloot staat nu:
Social Media
Afspraken maken
Email handtekening
Hier kun je alleen geen business mee runnen.
We moeten nog veel meer stappen maken om Jeasy op de automatische piloot te zetten.
Het eerste idee is een chatbot met Kennisbank.
Zodat klanten sneller bepaalde uitleg vinden en niet hoeven te bellen.
Pricing & Contracten
Automatische contracten voor de data-verwerkersovereenkomsten staan al klaar, maar de prijzen nog niet.
Dit is natuurlijk van belang om automatisch klanten binnen te krijgen.
De leads komen binnen via tools en content en ook het uitreiken naar relevante plekken ter verspreiding van beide is nogal een issue.
Kortom 2 aandachtsgebieden: Lead generatie en conversie van leads.
Ik zet de tools hiervoor (tegen de tijd dat ik ze gevonden heb) natuurlijk in deze blog!
Influencers – Carro
Vandaag kwam ik via-via een ontzettend leuke tool tegen.
Carro – Benader influencers die al met je geconnect zijn.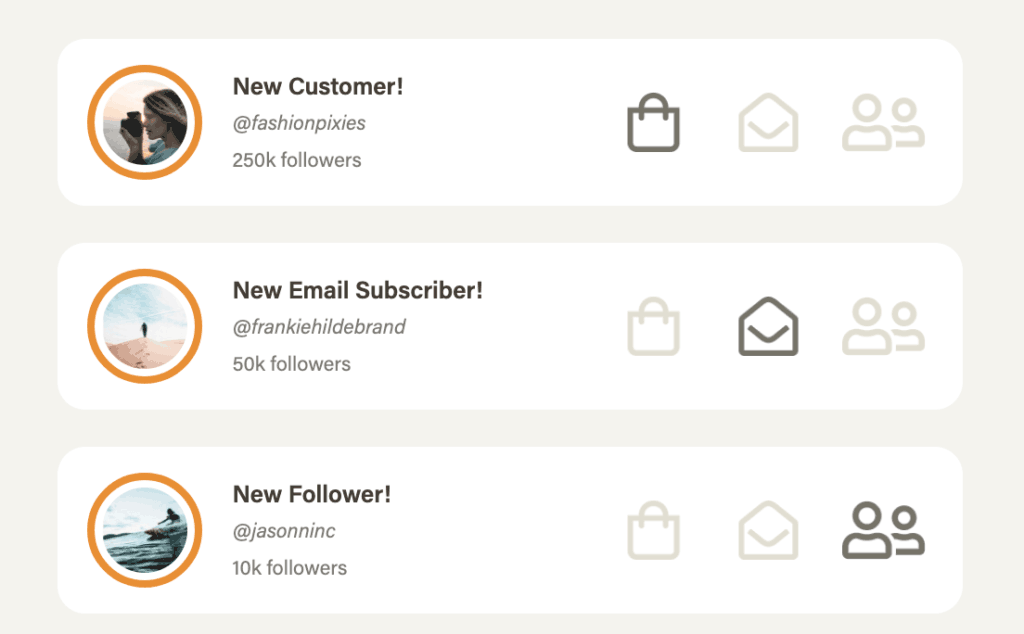 Dit zijn dus influencers die al op je mailinglijst staan, iets gekocht hebben of jouw social media al volgen.
Het voordeel van deze tool is dat je een warme band hebt met deze persoon.
Kortom: vraag je iets ter promotie, dan heb je meer kans dat het slaagt.
Ssst… vertel deze tool niet verder
Ik heb de afgelopen tijd mijn LinkedIn geautomatiseerd.
Het doel? Mijn bestaande netwerk vragen of ik ze kan helpen met een specifieke dienst of via mijn netwerk.
Nu ga ik natuurlijk niet mijn hele netwerk af van 950 connecties om ze allemaal handmatig een berichtje te sturen. (sorry netwerk)
De tool die ik gebruikte heet: Meet Alfred
Het is eigenlijk een bot voor je LinkedIn.
Voordelen: Je kan automatisch verzoeken sturen, berichtjes sturen en follow-ups sturen.
Het unieke van deze tool is dat het verder komt dan de basis.
Het verwerkt je functie, huidige bedrijf en naam in het bericht.
Super persoonlijk en toch massa-proof.
Dat zijn de tools, die het bedrijf naar een next-level helpen!
The Side-Project in 3 uur live
In Samenwerking met Nick van Breda is Jeasy gestart met "The Side-Project"

Dit logo zegt al een hoop, maar wat?
De meeste ondernemers lanceren een zijproject buiten hun bedrijf of naast hun baan en dat mislukt, gaat de prullenbak in en ze gaan weer door-broeden op het volgende plan.
Daarom proberen we met dit initiatief meer zijprojecten van de prullenbak te redden.
Het brand is gemaakt in via Brandbuilder.AI
Dit programma maakt in een paar minuten een geheel brandbook voor je en je kunt altijd bij de logo's en assets.
Vervolgens maakte ik snel een landingspagina in Brizy.cloud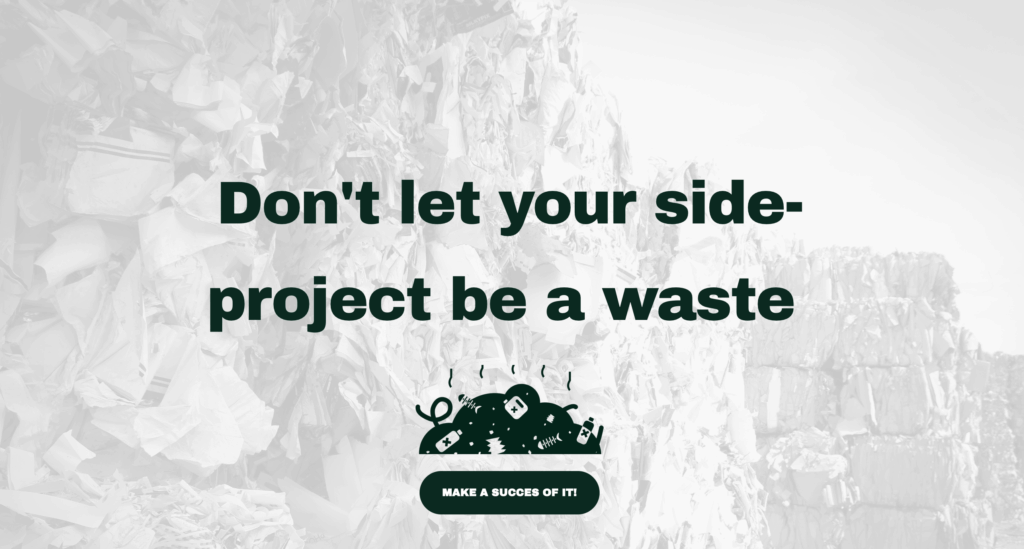 En wanneer je klikt op de knop, nadat je misschien de hele pagina hebt gelezen, dan kom je op de early acces pagina.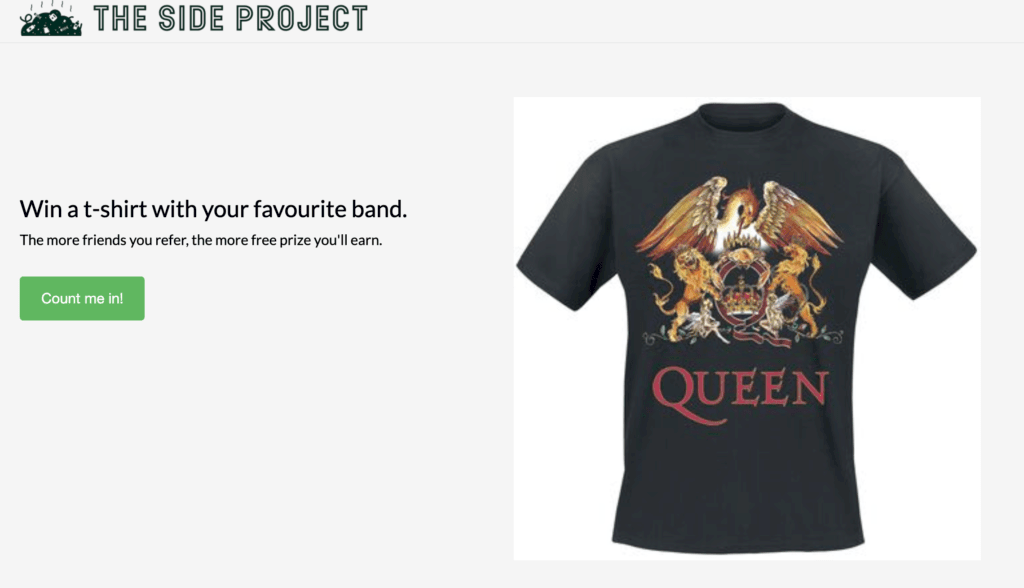 Waar je een t-shirt van je favoriete band kunt winnen!
Dit heb ik echt in 3 minuten gemaakt via Viral Loops.
Elk mailtje, entree, mailverificatie, wachtlijst positie.
Alles stond al klaar voor gebruik.
Binnenkort meer over dit bijzondere zijproject!