Start een website en de kans is groot dat je start met Google Analytics. De web analytics tool wordt ongeveer op 133.800 sites gebruikt. De populairste analytics tool op de markt heeft dan ook een marktaandeel van ongeveer 81%.
Google Analytics vraagstuk: wordt het ook gebruikt?
Veel websites hebben het er dus op staan, maar onze vraag was of het ook gebruik wordt? Je kunt enorm veel met deze tool, al het gedrag op de website kun je feilloos vastleggen, mits je het goed instelt.
Het instellen van deze tool is nogal een klus en daarom vroegen wij ons af of online Nederland het er gewoon op zet en denkt… Het zal wel!
"Daarom vroegen wij ons af. Of online Nederland Google Analytics er gewoon op zet en denkt… Het zal wel!"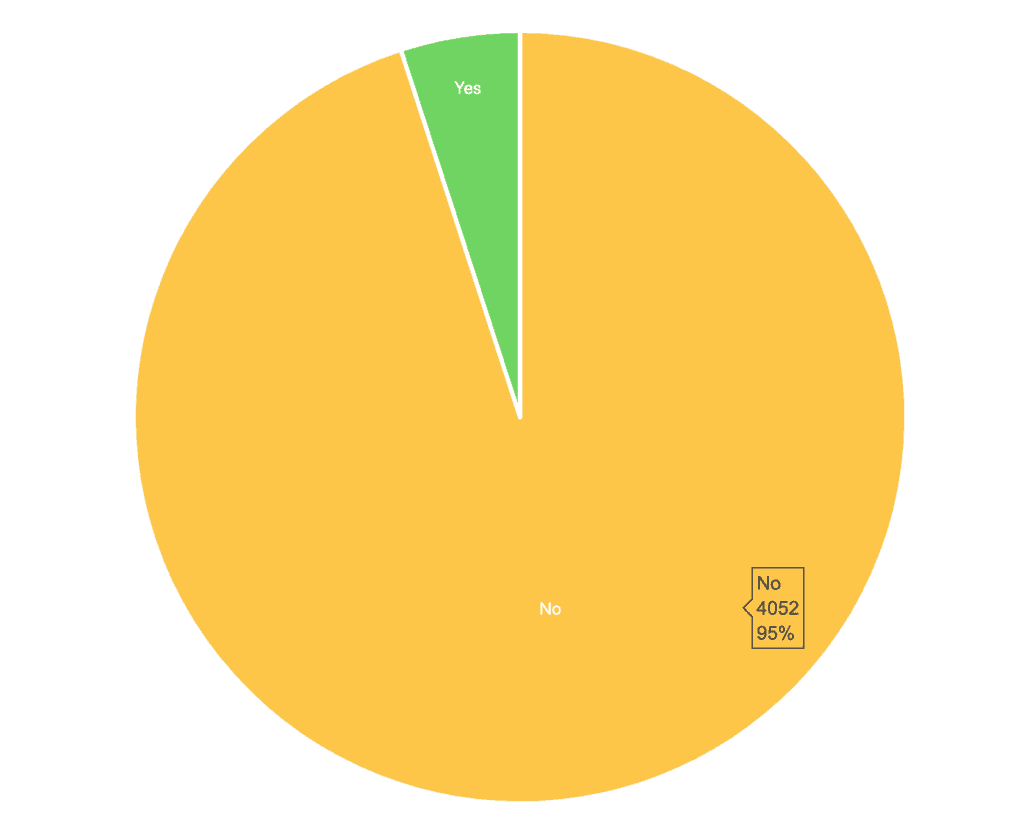 Met deze vraag in het achterhoofd: "wordt Google Analytics gebruikt, zoals het bedoeld is?" starten we het onderzoek onder 4268 websites
De Methode: 4268 websites – meer dan Pageviews & Correct?
Onze maatstaf om dit te bepalen was:
Worden er events gemeten?
Staan er geen UTM's op de website en is het niet dubbel ingesteld?
Wanneer op beide vragen het antwoordt positief was, dan noteerden we een "ja" en in alle andere gevallen een "nee".
Bekijk hieronder de onderzochte bedrijven.
95% van de websites gebruikt Google Analytics fout
Fout in de marketing is een groot woord, maar wanneer je data niet klopt en er veel data mist, dan is het toch echt fout gebruik. Uit ons onderzoek bleek dat maar liefst 4052 websites Google Analytics fout hadden ingesteld.
Slechts 213 websites gebruiken Google Analytics op de manier, zoals bedoeld is, maar zelfs dat was nog niet altijd optimaal. Aangezien er bijvoorbeeld soms maar 1 event was ingesteld.
94% van de marketingbureaus heeft Google Analytics niet goed ingesteld
Ze spenderen enorme bedragen, maar meten daar wordt niet aangedaan. (Zo lijkt het er tenminste op.) De kans is groot dat jouw marketing bureau je niet kan helpen met het goed instellen van Google Analytics.
Slechts 86% van de retailers heeft Google Analytics niet goed ingesteld
De retail komt uit beste uit ons onderzoek. Ruim 14% maakt meer gebruik van Google Analytics en heeft het correct ingesteld. Daarmee is de retail voor ons de meest data-gedreven branche.
Minder dan 4% van de bedrijven tot 50 werknemers weet wat er op de website gebeurd
Dat zelfstandigen niet altijd de tijd en expertise hebben om hun website te meten, dat is nog te begrijpen. Toch heeft slechts 4% van de bedrijven met 11-50 werknemers een idee van wat er op de website gebeurt.
Gelderland minst, Limburg meest analytisch
In Gelderland haalt slechts 3% van de websites meer informatie uit Google Analytics, terwijl dit in Limburg 6%, het dubbele is! Kleine notitie: Eigenlijk is Zeeland nummer 1, maar daar is het aantal representatieve websites te laag voor.
Amsterdam telt de meeste websites met Google Analytics
De hoofdstad van het land heeft de meeste installaties van Google Analytics (vermoedelijk ook het grootste aantal websites), maar relatief heeft slechts 6% van de websites Google Analytics correct ingesteld. Wat 1% procentpunt boven het gemiddelde is.

In Rotterdam wordt er niet alleen gedaan, maar ook gemeten
In de havenstad heeft 6% van de websites Google Analytics goed ingesteld. Daarmee is Rotterdam relatief 20% beter dan de andere grote steden, wanneer het om analytics gaat.

In Utrecht wordt er niet zo nauw op de cijfertjes gelet
Slechts 5% van de domstad websites weet Google Analytics correct te gebruiken.

Conclusie: Heel Nederland heeft Google Analytics, maar (bijna) niemand gebruikt het
Iedereen zegt "wij hebben het", wanneer je het erover hebt. Alleen bijna niemand snapt wat het inhoudt en wat je ermee kunt.
De resultaten hebben ons eerlijk gezegd niet verbaasd. De afgelopen tijd zijn we enorm veel websites tegengekomen die de analytics niet op orde hadden.
Vooral marketing professionals schakelen ons steeds vaker in, aangezien ze zelf (zoals je hierboven kunt zien) ook niet precies weten wat ze ermee kunnen.
Wil je jouw analytics op orde krijgen of ben je benieuwd wat web analytics voor je bedrijf kan betekenen? Bekijk dan onze web analytics pagina
Wil je meer van dit soort onderzoeken lezen? Schrijf je dan in voor onze wekelijkse MarTech Tip